Resource
HOW READEST THOU?
THE FOLLOWING BOOKS ARE AVAILABLE TO AID YOU IN YOUR SPIRITUAL QUEST TO FIND YOURSELF AND YOUR GOD.
Booklets from Christ School for Living
1. THE LAW IS LIFE. – LAW OF LIFE

PREAMBLE: God is LAW. Law is the sustenance for order. God is ORDER. All there is in heavens are in accordance to Law and Order of God. The movement of the people towards God, must be in Order, according to Law. When God is obeyed, orderliness is maintained. When God is disobeyed, chaos, trouble and disasters make their appearance. Man's movement with God was first in order, in the Garden of Eden, according to Law. After the fall of Man, lawlessness and all disorderliness made its entrance. The effort in the salvation of man, from the days of Noah, till the first coming of the Lord, is to restore Man to God in order, according to law.
To read more, order the book today from CHRIST SCHOOL FOR LIVING
2. SPIRITUAL ECONOMY
THE LAW OF SPIRITUAL ECONOMY – HOW TO WIN EVERY TIME AND IN EVERYTHING – AN EXPOSITION OF THE BOOK OF MALACHI
The story of Pegasus was handed down to us from ancient civilizations who believed that PEGASUS, and winged horses in general, symbolize humankind's inborn ability to travel from one level of existence to another. Pegasus signifies the human need to rise above the ordinary physical state in which we live most of our lives, and the subconscious desire to seek spiritual answers and set goals. The deeper meaning of Pegasus is Mankind's natural ability to change negative into positive, dis-ease into harmony.
GOD IS THE UNIVERSAL SYSTEM AND THE TOTALITY OF HIS LIFE IS THE SPIRITUAL ECONOMY
TRUE ECONOMY: The book of Malachi sets forth the spiritual law under-guarding all effort in work, in movement, or life. Inherently, no effort is wasted; no effort is either good or bad in itself. The Law of thermodynamics states that Energy is neither created nor destroyed. In life, there is divine effort. This effort is not under the voluntary control of man. This divine movement is like a stream that flows south. As long as life shall last, this stream will flow. This stream will out-last all that live in it, all that drink from it, and all that have their livelihood from it. Yet, this stream is neither diminished, nor does it change. So is the law of success, called THE LAW OF SPIRITUAL ECONOMY. The source is not from the physical realm, its sustenance comes not from the effort of man, and its increase is entirely out of the control of mankind. The purpose of this exposition is to show Man how the owner of this river of life has set laws in motion, which guides, controls, distributes, as well as sustains all things.
To read more, order the book today from CHRIST SCHOOL FOR LIVING
3. MAKE YOURSELF A LIGHT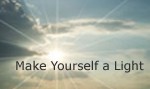 Rely upon yourself: do not depend upon anyone else, make my teachings your light, rely upon them: do not depend upon any other teachings.
The point of the teachings is to control your own mind. Keep your mind from greed, and you will keep your behavior right, your mind pure and your words faithful. By always thinking about the transience of your life, you will be whole, able to resist greed and anger, and will be able to avoid all evils.
Be the master of your own mind.
The spirit of Buddha is that of great loving kindness and compassion. This great loving kindness is the spirit to serve all people by any and all means. The great compassion is the spirit that prompts it to suffer with the suffering of the people. People suffer from their accumulated deeds and ignorance.
To read more, order the book today from CHRIST SCHOOL FOR LIVING
Suggested Reading from your local library
AS A MAN THINKETH … James Allen
LET GO AND LET GOD … Albert Cliffe
ABSOLUTE SURRENDER … Andrew Murray
THE SERMON ON THE MOUNT … Emmett Fox
ABIDE IN CHRIST … Andrew Murray